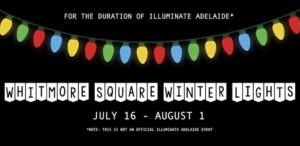 As Adelaide celebrates the debut of the Illuminate Festival this July,
City South figured it would be a good time to break out the Festive Lights
to bring some light and colour to Whitmore Square during the Winter darkness!
The plan is to have the Festoon Lights up, along with the big green spotlights
on each extremity for the duration of the Festival.
We are currently liasing with Council to get the necessary approvals to make this happen.
We will keep you posted!