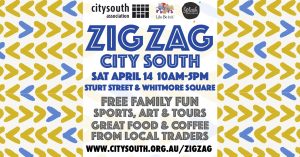 *********************************************
City South Association has had to make the unfortunate decision to cancel
all Zig Zag City South events advertised for this Saturday April 14 2018.
This includes the Beans & Sprouts event at Sturt Street Community School,
the Active on Whitmore Square event, as well as
the free tours of the West Terrace Cemetery.
Given the forecast of significant rain, strong winds and low temperatures
for Saturday, the City South Committee engaged with key stakeholders
at the Sturt Street Community School, the suppliers of the activities
on Whitmore Square and the Adelaide Cemeteries Authority
to arrive at this decision.
Taking into account patron and staff safety first and foremost,
as well as the value of volunteers time, predicted low patron turnout,
and the overall success of the event, we came to the conclusion that
cancelling the events was the most appropriate course of action.
We'd like to take this opportunity to thank everyone involved in the event
for their valuable support, and we are obviously disappointed that the
inaugural Zig Zag event could not go ahead at this time.
We will be exploring the option of rescheduling this event
to the October School holidays later this year, and will also be pursuing
plans for other Zig Zag events within the City South Precinct in the future.
We will keep you all updated over coming months.
*********************************************
Welcome to the Zig Zag City South event page!
Zig Zag City South is a placemaking event designed to showcase our Precinct's unique character and support our local traders and organisations.
Our first event is happening on Saturday April 14 from 10am-5pm along the Western end of Sturt Street and Whitmore Square and features a number of headline events. These include the Beans & Sprouts Family Day at Sturt Street Community School and the Active on Whitmore event on the Square. Details about both these events are outlined below.
In addition to this, there will be a Street Art Walk to enjoy, lots of great food, wine and coffee from local businesses and much more to be revealed over coming weeks.
Check out the Facebook event page here.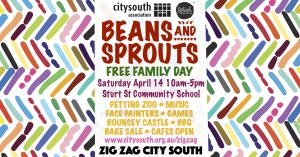 Beans & Sprouts Family Day – Sat Apr 14 – 10am-5pm
After City South's successful Beans & Sprouts events at Princess Elizabeth and Glover playgrounds, we are bring the fun and frivolity to the Sturt Street Community School's campus this time around, as part of the Zig Zag event.
As you've come to expect, it'll be a fantastic day out for parents and children, with a Petting Zoo, Facepainters, Bouncey Castle,  Balloon Animals, Music and more plus a Sausage Sizzle and Bake Sale raising funds for the School.
Check out the Facebook event page here.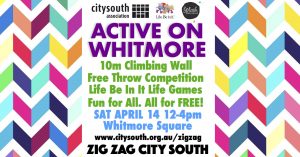 Active on Whitmore – Sat Apr 14 – 12pm-4pm
Get active on the Square with Life Games by Life Be In It as well as a 10m Climbing Wall, Free Throw Basketball competition and more! Gold coin donation for the Climbing Wall, everything else is free!
Check out the Facebook event page here.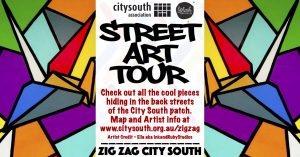 Street Art Tour
Check out the colourful and varied array of street art pieces in and around Sturt Street as you wander between events and hospitality outlets. Look for the spray can on the event map for locations!
Click here to download the map.
West Terrace Cemetery Walking Tours
Free Guided Day Tours will be happening at 11am and 2pm on the day (usually cost $10 per person). Each 90 minute tour brings to life the captivating tales of the State's long gone leaders, pioneers, humanitarians and scallywags! Please book online at Eventbrite here. West Terrace Cemetery is a City South Business Member.
Participating Businesses & Organisations
City South would like to acknowledge the Business Members participating in the inaugural Zig Zag event. Please support those who are supporting your Community!
Cafe Outside the Square – 34 Whitmore Square, Adelaide
Open 8am-3pm. Come and enjoy live music, excellent coffee, a quality menu and let us pay it all forward! Website click here.
Erb'n'Flo Coffee & Breakfast Bar – 153 Sturt St, Adelaide
Open 7am-3pm. An effortlessly cool cafe with great coffee and a delicious all-day breakfast and lunch menu. Rhythmic tunes on the stereo and art hanging from every wall sets a relaxed vibe. Check out their exhibitions featuring Adelaide's best Street Artists (including the artwork of owner Joshua Muller). Facebook page click here.
South West Community Centre – 171 Sturt St, Adelaide
Open 4pm-9pm. Join local neighbours and friends for a Shared Community Meal. Bring along a plate of food to share, and find out more about the many activities happening regularly at the Community Centre. Website link here.