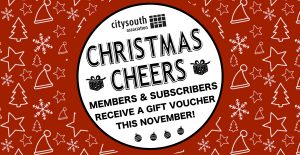 Christmas Cheers Gift Voucher Program
After the success of our Coffee Shout pilot in early September, City South will be running another
gift voucher program in late November / early December with QR code vouchers of $20 and $10
being distributed to City South Members and to everyone on our Newsletter mailing list.
Multiple businesses will be involved and vouchers will be valid over a two week period.
City South looks forward to spreading a little Christmas Cheer in the festive season
to our local residents and our local businesses!
More details to come soon!