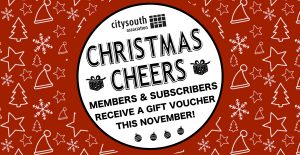 Christmas Cheers Gift Voucher Program
---
Update – Tues Nov 24 2020
After our brief lockdown, we are back up and running,
with the two-week redemption period now occurring from Mon Nov 30 to Sun Dec 13
(with vouchers to be sent out on the Monday morning).
---
After the success of our Coffee Shout pilot in early September, City South will be running another
Gift Voucher Program in November / December 2020 with single-use QR code vouchers valued at $20
being distributed to City South Members and $10 vouchers to everyone else on our Newsletter mailing list.
We are pleased to announce the following four businesses will be involved in the Program.
Sibling, Seoul Sisters, Fine Choice Coffee & Cafe Outside the Square
(click on the links to view their business details on our Directory Page)
Voucher recipients are able to choose which trader they wish to redeem their voucher with. Redemptions can be made over a two week period from Mon Nov 30 to Sun Nov 13.
Please note the Conditions of Use for the vouchers below:
The vouchers come in the form of a single-use QR code that staff will scan upon presentation to redeem the voucher. Patrons can either present the voucher on their phone, or by printing the code on paper.
The voucher can only be redeemed in one transation. Any unused portion of the voucher is forfeited and cannot be redeemed at another time.
If your order totals more than the voucher amount, you will need to pay for the balance at the time of ordering.
Vouchers are transferrable, but we would prefer the benefit go to the recipient who paid for their City South Membership.
The QR code on the voucher must be scanned by a staff member or the business will not receive reinbursement for the purchase by City South Association.
Voucher can only be used once. If scanned more than once, a message will appear on the scan device to say it is no longer valid and you will have to pay your order yourself.
Please do not scan the QR code yourself or the voucher will no longer be valid when you come to use it.