Festive light in Whitmore Square
City South Association and Adelaide City Council are pleased to present a festive light display in Whitmore Square, commencing Friday December 16 and running through to 18 March.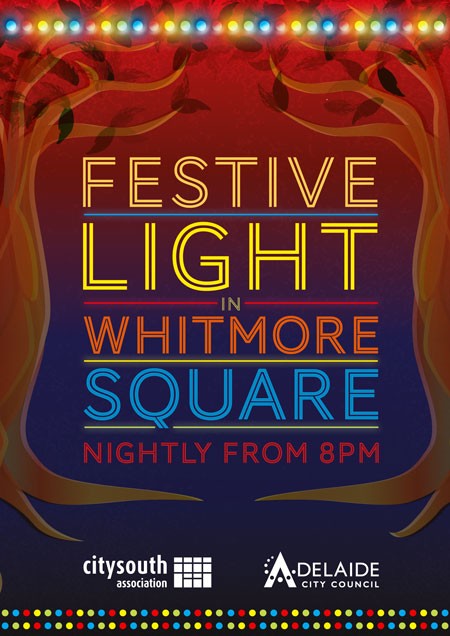 With generous support from Adelaide City Council, the various city precincts have lined up a series of activities and events for you to enjoy during this festive season.
Grote Street
Beautiful decorations and lights lining up the street making you in tune with the season as you buy your Christmas fresh delights in the Central market
Gouger Street
With the street beautiful decorated, come watch carnival dancers perform on the street from 6.30pm to 8.30pm Friday 9 December. Santa will be there as well.
Whitmore Square
Bring out your picnic blankets and chairs and enjoy a meal with family and friends under the bright and colourful Christmas lights.
Hutt Street
Look out for treats from Santa and his elves on the brightly decorated street. And if you are there on Saturday 10 and 17 December, you will enjoy some music by coral singers strolling cafes.
Leigh Street Adelaide
Buy a gift for your loved ones and join in the carnevale at the Free Christmas Art Market 12 noon–6pm Sunday 18 December.
North Adelaide
Enjoy stunning international cuisine and shopping in this fashionable precinct.
Rundle Street
Shopping and dining will be special this time with roving choral singers and Santas up and down the street from Friday 10–23 December at varied times.
Melbourne Street
Experience the Colourful lighting display every night in the month of December
For more information on the season's events in the City visit www.cityofadelaide.com.au/christmas