City South had an excellent response to its one-off Support Grant project, with local businesses very appreciative of the financial help we were able to offer in June 2020 after the COVID-19 shutdowns.
We were able to bestow 22 grants of between $200 and $400 to local traders, as well as give them complimentary Business Membership for one year. The full list of recipients is outlined below.
It was great to be in a position to offer this kind of help to our Locals, and we wish them all the best as we transition out of the COVID-19 shutdowns.
Support Grant Recipients
55ml Bar, Allegra Dining Room, Astonish Patisserie
Bellydance Amethyst, Cafe Outside the Square
Dance Amor, Employment Options
Explosive Promotions, Etica Pizza
Fabric of Life, Feltspace
Grandparents for Grandchildren
Hostel 109 Flashpackers
Indian Delights, Koyeosa Korean BBQ
Mache, Mimi Thai, Optus Business Centre
Seoul Sisters, Sibling, Veggo Sizzle, Vietnamese Laundry
All these businesses are now City South Business Members.
You can view all their details on our Directory Page (click here).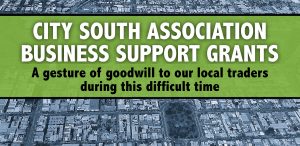 Outlined below is the Support Grant application process that was promoted to businesses in the City South Precinct.
As part of our commitment to supporting local traders, and following the precedent set by Local and Federal Governments, City South Association would like to offer businesses in our area access to our one-off
Business Support Grants.
The idea behind this program is to utilise $10000 of City South's operating funds (provided to us by the City of Adelaide) to offer grants between $200 and $400 to local small businesses of all types who have been adversely affected by the enforced closures and restrictions placed on businesses due to the COVID-19 pandemic. In addition to the grant, recipients will also be given a one-year Business Membership of City South Association.
Grant amounts to successful applicants will depend on their trading situation during the shutdown period
from March 23 to May 22 2020:
$400 + GST for businesses that have been closed ie. have not traded at all during the shutdown period.
$300 + GST for businesses who operated in reduced capacity ie. by appointment only, takeaway only, online sales only.
$200 + GST for businesses operating normal hours but have experienced a trade downturn and/or increased expenses from having to implement new practices due to COVID-19.
In addition to the grant, recipients will become City South Business Members for the 2020-2021 Financial Year.
This entitles the business to a Directory listing on the City South website, and a social media post about their business during the course of the year (total value $50 + GST.
With only $10000 available in the Support Fund, this translates to approximately 30 grants going to eligible businesses within our Precinct.
Current City South Business Members will receive a bonus $50 + GST on top of the amount they are entitled to under the above categories and do not need to apply. If their trading situation is applicable, current Business Members will automatically receive a grant from Association monies separate of the $10000 Fund.
All small locally-owned businesses in the City South Precinct are welcome to apply ie. Hotels, Bars, Restaurants, Cafes, Retail Stores and Service Providers such as Accommodation, Automotive, Design & Print, Health & Fitness
and Not-for-Profit businesses.
Priority will be given to those who have closed, had to significantly change their operations and have seen significantly reduced turnover. The City South Committee has the final say as to who receives the Grants. Successful applicants will be notified by Monday 15 June and will be asked to provide an tax invoice with payment details, a logo and 25-50 word blurb so that their website listing can be finalised.
The application process is very simple!
Simply email the Coordinator ([email protected]) with the following details
by 12pm Wednesday 10 June 2020.
Name of your Business, Business owner/managers name, phone and email address.
Which trading category outlined above applies to your business?
In percentage terms, outline the reduction in turnover you've experienced, and if you've had to any cost increases as a result of your trading situation
We look forward to receiving your application, and we wish you all the best as we slowly transition back to normality over the coming months.
Kind regards,
The City South Committee.