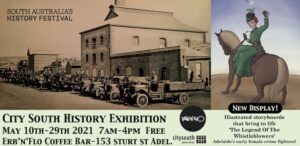 In 2009, then City South President Ian Rutter in partnership with the local History Group, sourced a collection of photographic images of the City South Precinct and surrounding areas dating from 1860 to the early 1900s from the City of Adelaide archives. These images were printed onto canvas and displayed at the South West Community Centre and The Box Factory in that year.
In 2017, the collection was rediscovered in storage and presented as part of that year's History Festival at Pulteney Grammar School on South Terrace.
As part of the 2021 History Festival, City South is once again displaying selected historic prints (examples below), along with a new display of illustrated storyboards that depict the tale of Adelaide's first female crime fighters, affectionately known as Whistleblowers! Printed brochures of these illustrations will be available for patrons to take home. More information can be found on the Whistleblowers Project page – click here.
We thanks the Adelaide Cemeteries Authority for their funding of this project.
The exhibition takes place at Erb'n'Flo Coffee Bar, 153 Sturt St Adelaide from May 10-30.
They are open daily from 7am-4pm (not open Sundays).